Iordered Corndogs 2day for our gathering .. everbody loved it ... 1 dozon 6 kd .. which we can do at home cheaper !!! spically for big partyes ..
here is the recipe ..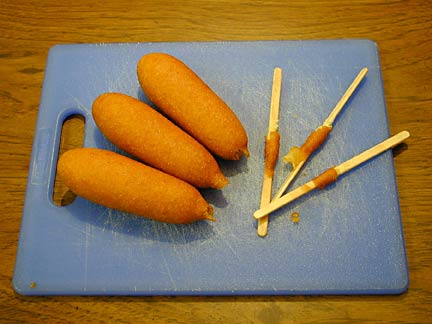 Ingredients
1 C. flour
1 C. cornmeal
1 Tbs. sugar
1 Tbs. baking powder
1 tsp. salt
1 tsp. chili powder
2 eggs
1 C. milk
1/4 C. vegetable oil
Oil for deep frying
1 lb. hot dogs
Directions
In a large bowl, combine flour, cornmeal, sugar, baking powder, salt and chili powder.
In a small bowl, beat eggs with milk and 1/4 C. oil. Pour liquid ingredients into dry ingredients and whisk together until batter is smooth. Heat oil in the deep fryer to 360 degrees. Insert a popsicle stick into each hot dog. Using the stick as a handle, dip each hot dog into batter and turn to coat evenly. Fry corn dogs several at a time until golden, about 3 to 5 minutes. Drain on paper towel.